Stephanie Martin Scholarship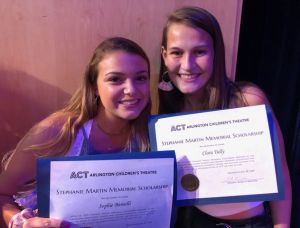 Congratulations to our 2019 Stephanie Martin Scholarship Winners: Sophie Bionelli and Clara Tully.
The deadline for applying for the Stephanie Martin scholarship will be announced in the summer of 2020.
Stephanie Martin was one of the earliest and longest serving board members of Arlington Children's Theatre. Stephanie served in multiple capacities on the ACT Board of Directors as well as photographing virtually every ACT production until her death in April, 2010. She was fervent in her willingness and desire to make sure that ACT was both affordable and financially viable for years to come.
Named in honor of late board member Stephanie Martin, Arlington Children's Theatre will give up to three scholarships of $500 to the graduating senior(s) who best embody the spirit of ACT, who exemplify Stephanie's commitment and willing service to ACT, and who will continue to be positive role models and representatives of Arlington Children's Theatre for years to come. After submission, applications will be blinded and sent to a committee comprised of community members who have experience in theatre but are not currently involved in ACT.